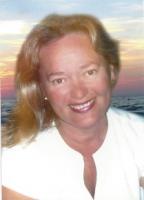 Kathleen Ripley Leo
Photo by Richard Tikiob

| | |
| --- | --- |
| Kathleen Ripley Leo | |
Featured Poem of the month: The Kiss
Northville Arts Commission is pleased to showcase this award-winning poet in our Fine Arts Series: Kathleen Ripley Leo. Thomas Lynch has said about her poems:
"Here is the work of a generous and genuine writer -- a voice raised in praise and thanksgiving and witness. Kathleen Ripley Leo's poems are permanent gifts, and we are all the better for them."
Thomas Lynch, author of The Undertaking
Kathleen Ripley Leo is a native of Chicago and received her MA in Latin American Literature from the University of Pittsburgh where she had the opportunity to study with Nobel Prize winner Octavio Paz. Twice given a special tribute by the Michigan legislature for her work as a poet in residence in Michigan schools, Ms. Leo is an esteemed Michigan poet listed in Poets and Writers, the Creative Writers in the Schools program of the Michigan Council for the Arts, and Michigan Authors.
She is past president of Detroit Working Writers, an organization noted for its Writers Conference. 2004 marks this writer's conference's 42nd year, with Kathleen Ripley Leo as the 2004 conference chair, and sponsorship by Schoolcraft College and the literary magazine The MacGuffin. Kathleen is also past chair for six years of the Associated Writers Programs Pedagogy Conference. She is published through literary presses, and has won prizes and grants for her work, including two nominations for a Pushcart. We are featuring three of her books here, with excerpts: The Old Ways, Town One South, and The Circle is Assembled.
Kathleen Ripley Leo's newest book of poems, entitled Familiar Ground features the poem 'The Familiar' listed above. Barbara Drake, author of Writing Poetry, says about this book: "In 'Celebration of Strong Women,' and other poems, Kathleen Ripley Leo with characteristic warmth and empathy expresses a strong, compassionate, and womanly spirit as she reaches across generations to chronicle birth, death, friendship and family. Whether she is writing about singing in the church choir, keeping watch over a dying aunt, getting a foot massage, or investing in stocks, Kathleen Ripley Leo opens herself to experience with a serious kind of joy." Contact publisher Jared Michaels at eightpagepress@hotmail.com about Familiar Ground.
This site was designed by Michael McEvoy .
Upcoming Events
---
September 21 - 23, 2017
Reading Poems at the Darborn Inn, State Conference NSDAR

October 14, 2017
Luncheon Speaker at Sashabaw Plains Chapter DAR
Andiamo's, Clarkston, MI @ 2pm
November 7, 2017
How to Write a Poem
Our Lady of Victory Church Activities Hall
April 21, 2018
Governor's Mansion, Marshall, MI
Reading from Works of Poetry and Prose