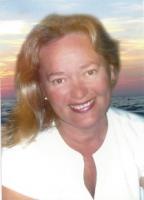 Kathleen Ripley Leo
Photo by Richard Tikiob

| | |
| --- | --- |
| Kathleen Ripley Leo | |
CLICK TO READ THE FIRST EXCITING CHAPTER!
In the beginning, the original creative spirit designs the Seamless Universe, bringing forth the firmament that becomes the garden-our planet, Earth. From the first human child's laughter come the first faeries, and three distinct fey communities settle across the garden to protect humans from natural disasters produced by the forces of creation.

The Tureg dwell by the endless sea. The Candela thrive in the prairie landmass. These two fey communities have been feuding for millennia, but they must make peace to protect the Seamless Universe's delicate balance. The Dantorak, non-winged fey, incite natural disasters to kill humans, who are destroying the garden. If the humans are ever to survive, the Tureg and Candela must somehow resolve their differences and overcome the Dantorak.

The fate of the garden and the Seamless Universelies in the forbidden love between one Tureg and one Candela-but will their innocent passion be enough?

This first of a series is a rich and imaginative adventure into our world's tiny microcosms, which have astronomical impact on the universe. A story of redemption, second chances, and good versus evil, The Seamless Universeis a page-turner for young adult fantasy fans.

ISBN-13: 9781499230871
CLICK TO READ THE FIRST EXCITING CHAPTER!
Upcoming Events
---
July 28, 2014
Northville District Library
1-2:30 pm
Explore various poetry styles using a variety of artistic formats and media including traditional pen & paper, collage, book spine poetry, & black out poetry. Local poet Kathleen Ripley Leo offers her expertise to teen poets – beginners to advanced.

August 1, 2014
Starring the Gallery
118 W. Main Street
Northville, Mi
248-347-1642
6pm to 9pm
Features wine/cheese reception for Kathleen Ripley Leo, and her novel The Seamless Universe

August 19, 2014
Northville District Library,
212 West Cady Street,
Northville, Mi 48167
6-9 pm
Reception for Kathleen Ripley Leo, and her novel, The Seamless Universe.